Facebook: Three Important Insider Secrets
October 14th, 2015
You probably know that, taken collectively, the social media can represent a double-edged sword. If not handled carefully, it is very easy to inflict self-injury. Facebook, by far the biggest force within the social media, presents several opportunities where customers may either positively interact with a business or where a business might allow itself to be publicly humiliated by disgruntled customers. Be aware of how to tip the scales your favor by adjusting three settings for your Facebook Page.
1
Facebook Messaging
Allow visitors to your page to send you private messages, and then respond to those messages in a timely and professional manner. Of course, if you run a campground, you might prefer that people initiate their reservations by using the online reservation page on your website; however, you do not want to turn away business because potential customers might prefer to contact you in another manner that they may consider to be more intuitive in their instance. If you are heading into a slow weekend and somebody messages you on Facebook, asking if you have two adjoining sites available for the upcoming weekend, you can immediately reply (answering in the affirmative and providing them with both your telephone number and a direct link to your online reservations) or you can kiss that business goodbye (and look at those two empty campsites all weekend long). To ignore this opportunity to allow customers to engage with your business is like telling people that you will only allow them to pay with a credit card, and that you do not accept cash. That would be pretty foolhardy, wouldn't it?
Here is how to do it: Logged into Facebook as admin for your Page, go to Settings > General > Messages. Enable private messages by checking the box that says, "Allow people to contact my Page privately by showing the Message button." That is the first step. For the next step, go to Settings > Notifications > Messages, and choose the option that says, "Get a notification each time your Page receives a message."
The most important part is to respond to your private messages as quickly as possible. Your Response Time is the key measurement. Your response time is visible to the public in the "About" section of your Facebook Page. Your goal should be for that to show as "Typically replies in minutes". By setting up notifications in the previous step, you should have no excuse for not responding in a timely manner. There are tools that will help you to respond to messages, particularly when you are away or when your office is closed. Go to Settings > Messaging and consider adding a personalized "Away Message" or an "Instant Reply".
2
Visitor Posts
Part of the beauty of the social media is the ability for businesses to interact with their customers, particularly in instances where the customers are the ones to initiate that interaction. On Facebook, be sure that you have enabled visitor posts.
Here is how to do it: Go to Settings > General > Visitor Posts. Choose "Allow visitors to the Page to publish posts", but check the box that says "Review posts by other people before they are published to the Page." That last step is critically important. If you have somebody who was unhappy with their experience with your business, has an axe to grind or simply would like to humiliate your business in public, this is one of the first places they will turn. In fact, some people specifically "like" a Page so that they can post negative comments. By moderating those posts, and determining which ones you allow to be publicly visible, you are protecting your business for being harmed in this manner. Even if a negative post is only online for a few minutes (until you have been notified that it exists), hundreds of people may be exposed to that post and its potentially harmful content.
3
Reviews
Reviews on Facebook are consistently the source for the greatest potential harm to a business. If your reviews are all positive, congratulations! You need to read no further. However, if your business has ever been the target of even a single negative review, you have probably been frustrated with the inability to delete any such reviews that appear on your Page. By default, all you can do is "like" or comment on a review; however, comments with a negative reviewer tend to lead to nothing but a shouting match on your own turf. People who see the negative review generally do not know the author, but your responses can make you look defensive, argumentative, or dismissive … none of which are good business characteristics.
I have worked with several clients whose businesses have been the targets of negative reviews. In the instance of campgrounds, these 1 star reviews are generally written by a camper or group of campers who had been evicted or reprimanded for misbehavior during their stay. They typically recruit their friends to write their own negative reviews or to comment on their reviews in order to ensure that the snowball keeps growing. Of course, they will usually first try to post to your Page; however, if you are moderating posts by others or have banned a user from posting to your page, they will often turn to the review process.
The problem with reviews is that you cannot get individual reviews removed, unless the reviewer has resorted to the use of profanity, character assassination, or another narrowly-defined violation of Facebook review policy. Reviews will appear on your Page whether you like them or not, and they seem to linger forever. For example, Normandy Farms Campground is one of the leading campgrounds in the United States by anybody's definition. Their Facebook Page shows 778 reviews, with an average rating of 4.6 out of 5 stars. Of these, 92.5% of their reviews include either 5 or 4 star ratings, with fewer than 2% being 1 star reviews. The problem is that the review summary that is visible to anyone who visits the Page shows two reviews: an example of a 5 star review and an example of a 1 star review. Clearly, this summary is not an accurate representation of the reviews for the park by any stretch of the imagination. Hopefully, anybody visiting the Page will quickly recognize that negative reviews are the exception to the rule and are written by people who lack the credibility of the majority of the reviews.
Nonetheless, that review summary is a problem for many businesses on Facebook, particularly if the negative review is compounded by comments and copycat reviews by the reviewer's friends. What can you do in this instance? Follow these instructions to prevent reviews from appearing on your Page. Just remember that this is an "all or nothing" solution; however, if you have a bad review that is giving you migraines, you are better off having no reviews appear on your Page.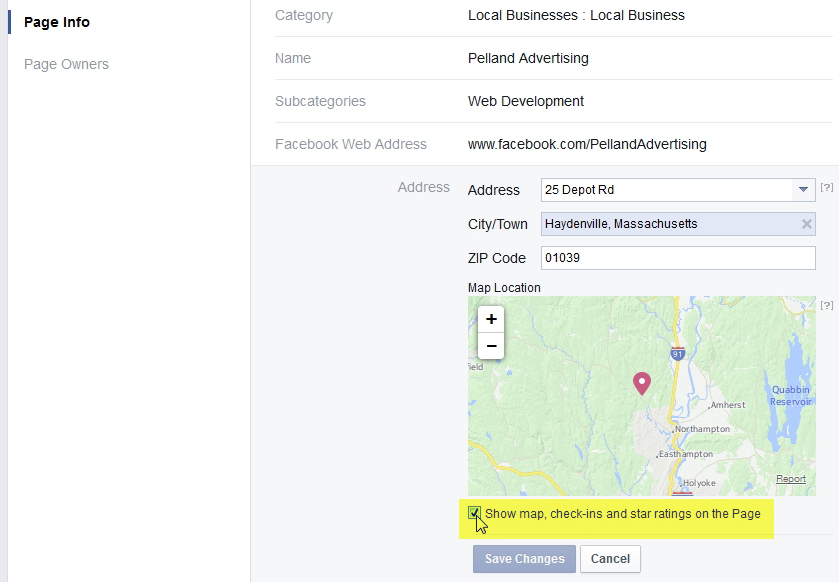 Here is how to do it: This tip is slightly trickier to implement because it will not be found in the Facebook settings. Go to your Page's "About" tab, and then choose the "Page Info" option on the left. Hover over your business's address in order to make the "edit" link appear. Click on that edit link. This will bring up information where you are able to correct your address, and it also shows a map of your location. UNCHECK the box that says "Show map, check-ins and star ratings on the Page." Click "Save Changes" and the reviews that have been haunting you will have now disappeared from your Page!
As I have said, Facebook and the social media in general can work for or against your business. Implement these tips to give your business the upper hand on what might otherwise be an off-level playing field.
This post was written by Peter Pelland