Don't (Always) Blame Your Webmaster
November 28th, 2023
Half the people with websites don't even know what SEO stands for, but, like an addict, they never think they are getting enough of it. Without question, there is an obsession with the mystery of search engine optimization. Over the course of a year, I field dozens of emails and phone calls from people who have mistakenly been given the impression that there are magicians afloat who hold the keys to secrets that can outsmart Google at its own game. I hate to deliver the bad news, but don't blame the messenger when I advise that there is no such magic wand. Want proof? Do a Google Search for "best magician in the world", scroll down, click on "More results", then repeat, repeat, and repeat. The DavidCopperfield.com website is as invisible as the Statue of Liberty in one of the great magician's most famous illusions.
We are living in a time when too many of us expect instant gratification in everything that we do. The owner of a new (fictitious) campground in central Oklahoma, with a new website that was just launched the previous month, cannot understand why his website does not appear in the results — er, at the top of the results — when he searches for "campgrounds in the United States". In large part, this expectation is driven by the countless emails that slip by our spam filters and the robocalls that evade even the best junk call filters, all claiming exclusive knowledge to the secrets to search engine placement. The first thing that you need to understand is that 99.99% of the outfits that contact you regarding so-called SEO services are scams, typically working out of overseas boiler room operations. Some may even represent that they are calling you from Google itself, in this case only the first in a series of utter falsehoods. They may also claim to be a "Google Partner" and display a badge to that effect. If that is the case, they are in violation of the Google Partners badge guidelines which specifically state, "You cannot show the Partner or Premier Partner badge on any materials, such as websites, that advertise Search Engine Optimization (SEO) services without a prominent notice saying such SEO services are not verified or endorsed by Google."
If that in itself does not make you suspicious of what is being offered, dig a bit deeper and you will often learn that the alleged services involve "creating links in blogs, websites, and directories that are intended … to generate traffic to your website … so that search engines know that this site is important for both its content and the references made to it on other websites." The "blogs, websites, and directories" referenced are usually owned and maintained by the SEO outfits themselves, with manufactured content that nobody accesses. These backlinks carry little if any credibility with legitimate search engines (which are basically Google and Bing these days) and have zero influence upon search results. In fact, these "White Hat SEO" services are in violation of Google's webmaster guidelines because they involve the creation of what are considered to be unnatural or artificial links. Rather than helping the SEO of your website, paying for these alleged services could actually inflict harm upon your site's SEO by penalizing your site.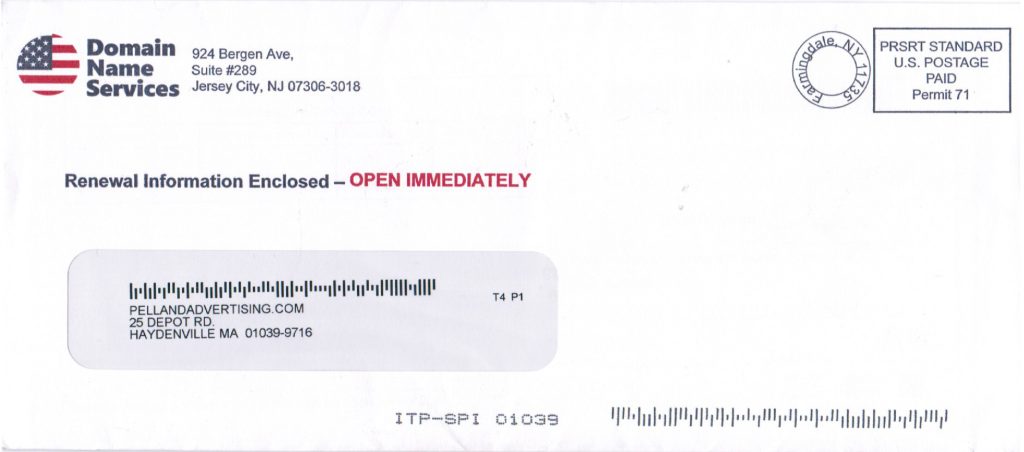 My favorites are the scammers that send what looks like an invoice, with a "search engine optimization fee" to "renew your listing" on some worthless directory, implying that non-payment will result in the removal of your website from the directory and thereby cause its disappearance from Google search results. It is amazing how many people panic, do not read the fine print, and turn over what is typically about $300.00 — as well as their credit card information — to these thieves.
In other instances, the SEO scammers get really nervy and ask you for control panel or FTP (file transfer protocol) access to your website, or ask for WordPress account access credentials, so they can go in there to "fix" things. Do NOT under any circumstances give anybody other than your webmaster this level of access. If you ask them to provide you with the recommendations that you might provide to your current webmaster, they will probably hang up and move on to their next call, hoping to find somebody more naïve. In other instances, they might send you an auto-generated report that could look confusingly impressive if you are your own webmaster, although any competent webmaster will recognize the report as inconsequential bunk. In rare instances, particularly if you built your own website or hired a local tinkerer to build your site, there might be some serious errors and oversights that are in fact impeding your site's SEO and that should be corrected. Would you like somebody working on behalf of a nearby campground entering your park and handing out sales literature to your campers, attempting to persuade them to camp at their park instead of yours? Think about it. If you have a relationship with your webmaster that is based upon trust in that person's or company's competence, there is no reason to panic. Anybody can find minor shortcomings and areas for improvement in another person's work, but those are rarely of a degree that impacts a site's search engine ranking. More often than not, the "problem" is impatience and unrealistic expectations on the part of the business owner. Going back to my fictitious campground in central Oklahoma (fictitiously located in Enid), an expectation to appear at the top of the search results for "campgrounds in Oklahoma" is unrealistic. When searching for such a broad term, it only makes sense that the results will feature broad resources such as Oklahoma Tourism & Recreation, KOA, Jellystone Parks, and Good Sam. It is somewhat more realistic to expect to appear in searches for "campgrounds in Garfield County OK", and much more realistic to expect to appear in searches for "campgrounds near Enid Oklahoma". Guess what? The most important factor behind appearing in "near me" searches is to claim and maintain your Google Business Profile, which is something that you, not your webmaster, should be doing. Needless to say, the paid "SEO experts" will never offer you such simple and useful advice.
This post was written by Peter Pelland