Big Things Are Happening at RV Park Reviews
January 10th, 2016
The following post is based upon an interview with Andy Robinowitz, the CEO of Social Knowledge LLC, and the owner of the RV Park Reviews website. The interview was conducted by Peter Pelland in July of 2015 and originally published in the November 2015 issue of Woodall's Campground Management.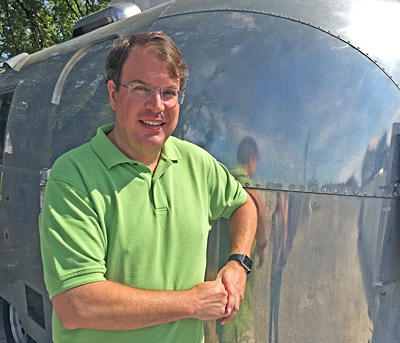 ---
Let's face it: The typical small business owner likes consumer review sites about as well as fingernails scratching on a chalkboard or tooth extraction without anesthesia. That disdain is generally unfounded. Yes, there are certainly instances when somebody with an axe to grind exploits the opportunity to try to inflict harm upon a business, but most readers of mean-spirited reviews are smart enough to read between the lines (and the usual spelling mistakes).
Smart small business owners look at consumer reviews in the aggregate and in an objective manner, recognizing the valuable feedback that the reviews provide. Big companies designate significant sums of money toward market research, employing focus groups, product sampling, surveys and many other costly tools. Whether somebody is thanking you for something that was done right, or pointing out an area where there is room for improvement, think of each review as free market research data that should influence decisions about how to run your business more successfully. Particularly when a comment or observation is expressed repeatedly, it should never be dismissed as simply an individual opinion. Reviewers are generally influencers, predicting future trends as effectively as canaries in coal mines.
The Campground Industry
Campground review sites are nothing new; however, they are growing in influence and becoming far more versatile as the sites add features and functionality designed to meet the needs of both campers and campground owners. While some review sites have stagnated a bit, and while TripAdvisor wastes valuable time deciding when to add a dedicated "Campgrounds" navigational tab, the RV Park Reviews website is undergoing some major improvements that need to be on your radar.
RV Park Reviews originated back in 2000 and has grown into perhaps the most significant contender among review sites that are specific to the campground industry. The site was acquired by Social Knowledge LLC, a Dallas-based company, in the fall of 2013, and the new owners are more focused than ever on meeting both the needs of the site's readers and individual campground owners. They have shared both documentation and their vision for the future with me.
Over the past year, RV Park Reviews has reached nearly 6,000,000 unique users, 95% of whom were located in the United States. Both user and session numbers are up roughly 20% over the previous year, and a similar rate of growth is anticipated going forward. With well over 200,000 existing reviews, far more people are turning to the site to conduct research prior to choosing a park destination than are turning to the site specifically to write a review. (This serves to disprove the "axe-grinder" theory!) These users spend a considerable amount of time visiting multiple pages per session, considering the experiences of others while looking for campgrounds like yours. With over 30,000,000 page views over the past year, doing the math will suggest that the average review has been read over 150 times in the past year alone.
In an interview with Andy Robinowitz, the CEO of Social Knowledge LLC, I gained some insight into what the site is currently offering to campground owners, as well as some of the added functionality that will be introduced this fall.
PLP: What sets RV Park Reviews apart from other campground review websites?
AR: Our contributors, the scale of our readership, campground coverage, and amenity data are what set us apart. We tend to have more reviews per campground than other websites. Our readership has now grown to more than 6 million readers annually. About 25% of our readers return on a regular basis, indicating how the site is very popular.
PLP: What do you say to campground owners who see review sites as forums for people with an axe to grind, and what do you do to try to prevent that from happening?
AR: It's a valid concern. We address this issue in a few ways with our policies. We also provide readers with tools to help them to better decide which reviews they want to trust, and soon we will be giving the campground owners the ability to respond to reviews, so they will have a voice as well.
To help our readers decide which reviews to trust, we recently added the rating distributions of each reviewer so someone can see if a contributor tends to only leave negative reviews. Alternatively, if you see a user who has lots of reviews with most of them being positive, then a single really bad review, you might take that into consideration in deciding whether to trust the review or not.
Going back to the axe grinders, our analysis shows that these types of issues are rare, with the vast majority of our reviews being positive. Regardless, we have a policy that requires a user to have at least two reviews approved before either will be shown on our website. This prevents people from creating an account to publish a single negative review. Most disgruntled customers never take the time to submit additional reviews. We also require reviewers to meet our Review Guidelines so they can't just rant about poor service. We moderate all submissions from new users before they are published. Based on our historical information, we suspect less than 1 in 100 reviews are from disgruntled customers.
PLP: Do you encourage campground owners to ask their campers to write reviews?
AR: Yes, I would recommend that campground owners ask their campers to leave reviews. The more reviews you have, the better the odds that readers will get an accurate feeling for a campground where they have not previously stayed. It also helps establish a larger base for the ratings. For example, if you only have two reviews, an 8 and a 10 mean you had an average rating of 9. Then, if someone leaves a review with the rating of 6, your average falls to 8. If you have 7 reviews with an average of 9 and someone leaves a 6, your average will not change. Having more reviews is better for consumers and better for campgrounds.
PLP: You mentioned that campground owners will soon be able to directly respond to reviews. I know that Management Responses have been a key feature of TripAdvisor. Could you elaborate on what you have planned?
AR: This fall we will be rolling out a new feature called the Campground Owner's Interface. Among other components, this interface will allow campground owners to respond to reviews. This will give campground owners a voice, allowing them to tell their side of a story so readers can use both perspectives when deciding whether to trust a review or not.
Keep in mind that review volume is important to help give more perspectives to readers. Campgrounds with lots of reviews are able to water down any negative effects from a disgruntled client. If you have 9 great reviews from happy customers and 1 negative review, it's pretty easy for readers to see the trend.
PLP: If this is rolling out in the fall, how can campground owners get a jump start on joining the program?
AR: We highly encourage campground owners to claim their campgrounds. This fall, when the Campground Owner's Interface is online, campground owners (or management) will then be able to manage their amenities, set their hours of operation, respond to reviews, and more. We'll even e-mail them whenever new reviews are posted so they will know to respond in a timely manner.
PLP: What will be some additional features?
AR: We will also have a widget available so campground owners can showcase their positive reviews. Campground owners will be in control of what is shown on the widget so they can customize it to their needs. For example, if they want to show only snippets of 4 or 5 star reviews, they can set it to do that. If they don't want to show any reviews, they can do that as well (and just link to their profile). By adding the widget to their site, a park owner makes it easy for their clients to leave reviews. We strongly suggest installing this on the campground's website to get more reviews and help with search engine optimization as well.
Given an advance peek at what is coming, I can tell readers that there will also be tools that will allow campground owners to access their statistics at the RV Park Reviews website, keeping track of reviews, page views and more. They will also be able to directly update their seasonal dates, hours of operation, amenities and other campground information, keeping up-to-date and helping potential visitors. The amenities listing will include information that may be vital to some visitors in their decision-making process. For example, whether or not the park has cellular phone service, and if so, which cellular service providers have a signal available; whether or not the park offers wi-fi, listing the fee if applicable; and whether or not the park has showers, again listing whether or not there is an associated fee for that service.
To get started, go to the RV Park Reviews website at http://rvparkreviews.com, find your park by choosing your state and city from the alphabetical listing to the left of the map or by using the search box at the top of the page. When you find your park's listing, click on the "View Campground Details" link. On the next page, click on the "Own this Campground? / Claim it and Unlock Features" link. Enter your name, e-mail address, phone number, and whether you are the campground's owner, manager or employee, and you will be notified prior to the rollout of the new features.
When it comes to technology, early adopters usually benefit the most. The RV Park Reviews website is already sending you significant volumes of traffic. Make it work to your park's maximum advantage. My recommendation is to get on board!
This post was written by Peter Pelland