Finding It on Google Does Not Mean It Is Yours to Use
July 23rd, 2014
It's late at night, a tired driver pulls up in front of your house, walks in your unlocked front door, and proceeds to enjoy a sound night of sleep in your spare bedroom. How would you react? Confronting the stranger, he tells you that an unlocked door is an open invitation to guests. Another night, your door is locked, and another stranger climbs in through a window. This one brings his entire family, redecorates, changes the locks on the doors, and wants to know what you are doing in his house.
You might think that these stories are crazy, and you would be right; however, have you ever done an image search on Google when you were looking for a certain photo or illustration to use in your own promotional materials? Unless it is specifically marked as "freeware" or "open source" by the original artist, you are probably just as guilty as one of those uninvited guests.
Most people know that just about any image or text that is ever posted online will be shared, re-posted, and indexed by search engines. Even embarrassing personal information has a life of its own. In fact, it took a May 2014 ruling by the European Union's top court to enforce the new "Right to Be Forgotten" policy that affects Google search results that are based upon an individual's name. In the first month, according to The Wall Street Journal, over 40,000 removal requests were filed; however, the removal process is a slow and tedious procedure that is currently in effect only in EU member countries.
When it comes to that image search on Google, when you click on an individual image, the only disclaimer is the "images may be subject to copyright", wording that is intended to relieve Google of liability, not to protect either you or the rights of artists. It is safe to assume that any use of an image found in this manner is a copyright violation and inherently illegal.
Put yourself in the shoes of an artist – or an author, in the case of text – and try to see the situation objectively. Nobody has a right to stay at your campground without paying a fee. Your campground is your livelihood. Well, the same thing applies to artists, illustrators, authors, and other people engaged in creative pursuits. They earn a living, put food on the table, and clothe their children by selling rights to their work.
One of our clients was mildly chastised recently for using a piece of artwork that he found in a Google search on one of his Facebook posts. Google did not clearly warn him that the artwork was copyrighted, but the artist did. It was a simple matter of apologizing and deleting the image; however, if the image had been used on printed materials, it could be another story with an entirely different outcome. Fortunately, most artwork found online is low resolution and unsuitable for use in print. Using artwork found online in printed materials could actually lead to a cease and desist order that could require any materials containing an unauthorized image to be recalled and destroyed.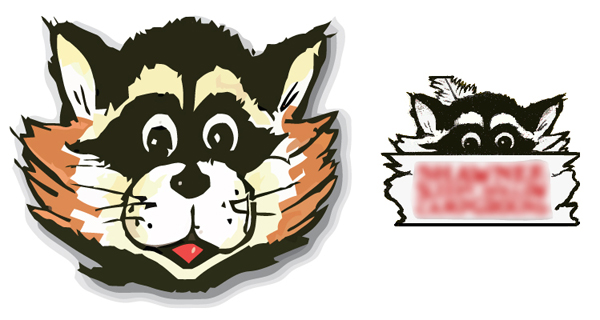 Another of our clients, Baker's Acres Campground in New Jersey, has a very distinctive raccoon logo that we hired an artist to design on their behalf back in the 1980s. It is the campground's registered trademark, they paid to have it created, and the original artwork is in our files. I just discovered that another campground has been using this artwork as its own logo, simply adding a feather to the back of the raccoon's head. I spoke with the owner of the campground, and he sounded like a very nice individual who had no ill intent. He simply thought that he had used a piece of art that was in the public domain and then modified it. It apparently appears online and on his brochure, although I advised him to stop using it. Other instances may not result in such a friendly outcome.
If you require artwork for any purpose, there are two options. Either hire an artist to create custom artwork or buy usage rights to royalty-free stock images. Artists or illustrators can be easily found online through various resources such as www.elance.com; stock photography and illustrations are also readily available online through various resources such as www.shutterstock.com and www.123rf.com. Prices are remarkably affordable, and it is difficult to put a price on peace of mind.
The bottom line is that a Google search for images might be fine to provide ideas regarding what is already being used, perhaps helping you to avoid using something that is too similar to existing art; however, it should not be used as a resource for finding unique images that are free for the taking. In other instances, the search results might include watermarked stock images, with a link to the site where usage rights may be purchased.
Think about it: the reason that Google is indexing an image is because it is already online and being used, almost certainly by a business that has paid for that privilege. You do not want to act like that uninvited guest who is looking for a free place to spend the night.
This post was written by Peter Pelland