October 17th, 2014
The more that we get caught up in believing that mass marketing and technology are the sole keys to bringing in new business, the more that we might miss out on basic, time-proven principles that work. When a campground is looking to expand its customer base and occupancy rates, it is fine to put effort into growing your sphere of influence within the social media or building your website's SEO; however, don't obsess over these at the expense of the more personal approaches that are more reliable today than ever.
Even the world's biggest brands are realizing the advantages of personalizing their marketing campaigns. A perfect example is Coca-Cola's "Share a Coke" campaign. Introduced in Australia in 2012, this campaign has been expanded around the globe. In the summer of 2014, some of the iconic Coca-Cola logos on 20-ounce bottles have been replaced by 250 of the most popular first names among the young people in the brand's core demographic.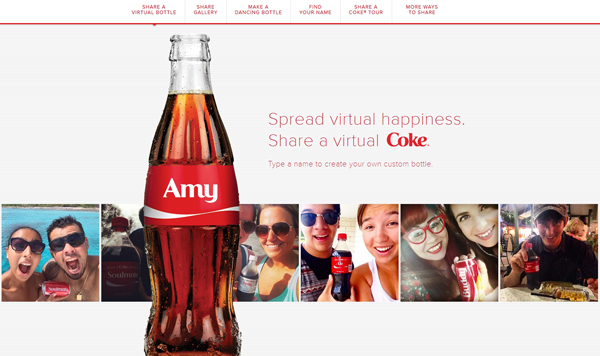 What Coca-Cola is recognizing in this campaign, which also tested successfully in the United Kingdom in 2013, is the power of personal appeal in growing brand loyalty. In addition to the bottles than can be purchased, the program is touring major colleges and universities across the country when students are returning to campus for the start of the fall semester. At these events, students are given an opportunity to personalize two Coca-Cola cans – as the promotional materials say, "one to keep and one to share". That sharing part is essential. The campaign also allows people to create a customized virtual bottle that they can share online, encourages people to upload photos of themselves consuming their customized Coke via Twitter, and makes it easy for you to determine whether or not your name is one of the 250 that may be found at retail outlets. The costs of this campaign are probably enormous, but the return on investment was proven through two years of testing.
Your Campground Is Not Coca-Cola
Without spending a fortune, your business can capitalize upon the same concept of using personal appeal to expand your markets. I remember visiting a campground a few years ago where each campsite was graced with a carved wooden sign with the camper's family name. An employee at the campground had a router and was skilled at quickly making these signs using pre-cut cedar slabs. Imagine the lasting, positive impression this created, when first-time campers arrived at their site and saw their name right below the site number! At the end of their stay, they took the customized sign home, as a continuing reminder of their camping weekend.
The most effective marketing and promotional campaigns succeed because they capitalize upon the element of surprise that comes from providing the unexpected. More and more these days, simply reaching out to your customers on a personal level will elicit a sense of surprise that will differentiate your business in a very positive manner. When reaching out to your customers, one of your key objectives should be to subtly recruit them to assist in your attempts at bringing in new business. Here are a few ideas that might work for you:
Encourage your customers to post online reviews that share their positive experiences at your park. In addition to TripAdvisor and Yelp, there are a number of review sites that are specific to campgrounds. Concentrate on the key players, but be careful not to offer incentives for positive reviews.
One of our campground clients runs a "refer a friend" program, in which they provide coupons where campers may enter the contact information of a friend who has not previously camped at the park. If they make a reservation, both the new camper and the camper who provided the referral receive a $20.00 credit.
Explore referral opportunities with complementary service providers. These might include local RV dealers, restaurants and other businesses in town, and campgrounds in other regions of the country. You may also want to include your vendors in these opportunities. Let the people who fill your propane tank, deliver your groceries, and service your equipment know that you are always looking for new campers. Printed literature – with or without a coupon incentive – works best in these instances.
If you post something newsworthy (such as an upcoming event) on the social media, encourage people to share your post and spread the words with their friends.
Consider adding a referral form to your website. This would also work more effectively if it included some sort of incentive (usually in the form of a discount) for both parties.
Giving a referral yourself is sometimes the best way to get somebody else to return the favor. You know your seasonal campers, and many of them are likely to be small business owners. If somebody is looking for an electrician, an auto body repair expert, a computer geek, or even a new car, one of your campers is probably in that line of work. Refer them!
As always, the bottom line is that surprising people by doing something unique is the best way to get them to take notice. Then carry that personal relationship to the next level so that both parties will benefit.
This post was written by Peter Pelland