Is Facebook Today's Milton Berle?
May 1st, 2014
Like a TV star at the peak of his prime, with ratings going through the roof, only to face cancellation two seasons later, the popularity of Facebook may very well be in decline. Think of Facebook in terms of Milton Berle's career in the early days of television.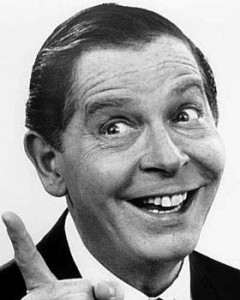 The Texaco Star Theatre was a popular radio show that transitioned to television in 1948, featuring a rotating series of hosts until settling upon comedian Milton Berle for the 1948-49 TV season. The show was an immediate hit with Uncle Miltie at the helm, commanding as much as 80% of the viewing audience, keeping people home on Tuesday nights, and driving the sale of televisions. Wanting to latch onto something new and extremely popular, NBC signed an unprecedented (and soon to be regretted) 30-year contract with Berle, culminating with the premier of the Milton Berle Show in 1955-56 (cancelled after that single season). The comedy shtick of "Mr. Television" had outworn the public's patience with recycled material and failed to meet its demand for things that are "new and improved".
Not long ago, Facebook was also at the top of its game, but I think that it is fair to say that the game is changing. According to Facebook's own statistics from January 1, 2014, there were 1,310,000,000 active users, including 680,000,000 mobile users. They also admit to 81,000,000 fake Facebook profiles. Also according to Facebook's own statistics, the total number of users between the ages of 13-17 has declined by 25.3% in the 3 years from January of 2011 to January of 2014. During this same period, users between the ages of 18-24 declined by 7.5%. As grandma and grandpa have opened accounts in droves, in an attempt to stay in touch with their children's children, the same people with whom they want to connect are disconnecting at a record pace. Users currently enrolled in high school have declined by 58.9%, and users currently in college have declined by 59.1%.
According to a Pew Research Center report released in late 2013, the popularity of Facebook in the hierarchy of social media site usage by teens is in freefall, being surpassed by Twitter, Instagram, Pinterest, and smartphone apps like Instagram, Snapchat and Vine. Beyond that, social media applications in general are being put aside in favor of instant messaging.
As a business, does Facebook still fit into your marketing strategy?
A few years ago, Facebook usage was growing across the board, demographically speaking, and businesses were creating Pages and content in an effort to capitalize upon a new and growingly receptive market. Before the conversion of business Pages to the Timeline format, "unliked" Pages could designate custom landing page that could be designed to more actively engage visitors. The introduction of the Timeline format ended that capability. Since the introduction of the Timeline format, far more emphasis has been put on Facebook Advertising, which is now the only way to designate a custom landing page.
In the beginning, if a Facebook user "liked" your Page, they would be shown posts from your Page; however, since the introduction of the Timeline format, fewer and fewer people have been seeing a business's organic posts. In fact, every time you post anything to your Page, you will see a link to the right of the Timeline that says "See Your Ad Here" with a link that says "Boost Post". In addition, every post is now followed by a "Boost Post" link directly alongside of the small number of people who have already seen your post. Whereas it used to be that Facebook Advertising was an effective way to reach new people, now Facebook is using it as a means to get businesses to pay to reach even their existing followers!
With the latest version of the Timeline format, more space is being devoted to advertising and slightly less is devoted to content. For users, the updates that they want to see – including posts from your business – are far less likely to appear, having been largely replaced by advertising (with a small "Sponsored" disclaimer) disguised as real content. Although Google and other search engines have always showed clearly identified sponsored search content, the display of that advertising has not come at the expense of the organic search results that are the foundation behind usage. Facebook – a company that touts so-called "transparency" – is violating the trust of its end users and further insuring its ultimate decline. The official explanation is that their objective is to "improve the quality and relevancy of news feed content."
The truth can be found in a recent Valleywag report quoting an anonymous source from within Facebook, disclosing that Facebook's current strategy is to reduce the reach of organic posts to somewhere between 1% and 2%.
Creating and maintaining Facebook content for your business made infinite sense as little as a year or two ago. Today, the impact and return on the time and expense invested is questionable at best. Although my company has built well over 100 Facebook Pages, including custom content, for all types of small business clients in years past, we are no longer recommending that our clients expect a Facebook presence to create an impact that will be a significant component of their overall marketing strategy. Yes, you still want to be found on Facebook, but we can no longer recommend anything beyond the bare basics of content. Quite simply, there are far more cost-efficient ways to generate new business.
This post was written by Peter Pelland