Your Prime Season Is the Time for Photography
July 9th, 2014
Until about 7 or 8 years ago, I spent my summer weekends executing on-location commercial photography assignments at campgrounds throughout the East Coast. It was not profitable work, but it gave my company a competitive edge when designing brochures and building websites. We knew that the photography was not going to be the weak link that would limit the effectiveness of the finished products.
After the weather, the greatest source of frustration when it came to scheduling photography was procrastination on the part of my clients. My main concern was sunny skies (which seem to be less and less common these days), but my clients' main concern seemed to be making excuses for why the upcoming weekend was not the right time for photography.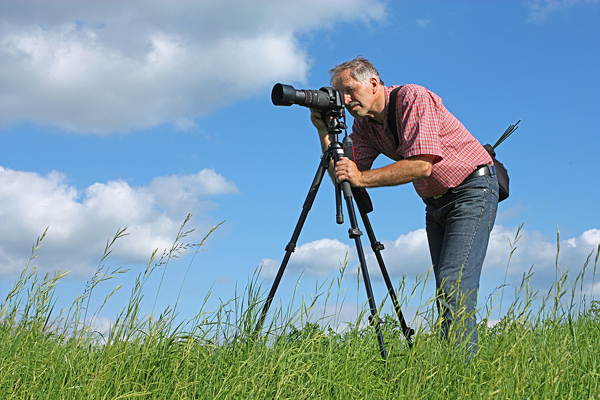 The excuses ranged from being too busy and too crowded to not being busy enough. With the exception of three-day holiday weekends, photos generally needed to be taken on a Saturday, which eliminated 6 out of the 7 days of the week. Saturdays were the days that were packed with activities, and the occupancy levels insured a ready supply of impromptu models. The weather could be gorgeous on a Wednesday, but empty campsites, an empty playground, and an empty swimming pool do not present a high level of marketing appeal.
Basically, all bets had to be placed on Saturdays, when the weather needed to be somewhere between partly cloudy and sunny. It does not require a statistician to know that the pieces did not always magically fall together. I spent many Thursday nights wondering if the weather would be sending me to North to Maine, South to Maryland, or West to Ohio. Even then, everybody knows that weather forecasts are notorious for their lack of accuracy.
My point with all this is to encourage campground owners to take photos when the time is right. As I write, it is already approaching mid-July, with two major holiday weekends and the entire month of June (perhaps the single best time to take photos) already behind us. If you have not already taken photos, what are you waiting for? Are you waiting for your pool to be closed for the year, waiting for the kids to be back to school, or waiting for pumpkins and mums to enhance your landscaping?
As I mentioned, I stopped taking photography assignments years ago, although my company does its best to locate talented freelance photographers who have the necessary skills for on-location commercial assignments on behalf of our clients. Year after year, I have campground owners contacting me looking for a referral the week before Labor Day weekend. Guess what? They're out of luck.
Here are a few tips:
Hire a qualified and skilled commercial photographer. Get a referral, then view the photographer's portfolio. Portfolios are all online these days. If the photographer shoots babies and weddings, look elsewhere.
Expect to pay $800.00 to $1,200.00 for a day of commercial photography. Define the day, including the expected start and finish times. If more than 100 miles or so of travel is involved, expect to pay additional travel expenses. Look at the bright side: there are no longer any fees for film and processing!
Expect your photographer to be using professional equipment (probably a digital SLR), including basic lighting (for interiors like your store and cabins) and a tripod. Professional photographers will always use a tripod.
Expect the photographer (or an assistant) to take responsibility for model releases.
The photographer should know how to "style" the shots, moving things around if necessary to improve the composition, but he cannot be expected to mow your lawn, pull weeds, rake your beach, replace burned out light bulbs, repair a torn volleyball net, or paint the side of a building. In other words, prepare in advance for your day of photography. If you were selling your house, would you show it to prospective buyers when the beds were unmade and there was a pile of dirty dishes in the sink? Do not expect everything to be "fixed" in Photoshop!
Outline in advance how long it will take for you to receive the images taken the day of the shoot and how they will be delivered (most likely on discs). Also determine in advance what usage rights will be provided. Typically, the photographer will retain the actual ownership or copyright to his work, conveying full, royalty-free usage rights to the work that was produced on your behalf. That is a reasonable expectation, particularly these days when there is no original film involved.
To get the job done right, the photographer you need is almost never going to be the person who you see in the mirror or somebody who addresses you as "Mom" or "Dad".
With these tips in mind, put an end to the procrastination. Photography is almost always the weak link when my company is hired to assemble brochures, rack cards, directory ads, and other printed materials. Although websites demand lower resolution than print, the difference between good photos and bad photos makes a world of difference.
So many people obsess over the volume of traffic that reaches their websites, giving far less thought to their customers' experience after reaching the site. The wrong photos send visual messages that essentially drive away the very same people who would be attracted by professional compositions.
If you would like much more information about planning a day of photography than could be included in this article, click here to access the online version of a seminar that I have frequently presented on this topic. The more you understand about the basics of professional photography, the better that photography will work to promote your business. Have you ever heard how a single photo is the equivalent of 1,000 words? Ensure that those words are all positive!
This post was written by Peter Pelland