Nobody Likes the Surprise of Hidden Charges
April 2nd, 2015
Last week, on a quick trip to Nebraska, I rented a car at Eppley Airfield in Omaha. I had reserved the car rental online in advance. My basic rental fee with Thrifty Car Rental came to $155.72. Sort of like a base rate for a campsite … or is it?
Transparency in pricing is more important than ever these days. Consumers do not want to feel cheated or like they are being subjected to fraudulent pricing practices. When you dine at a restaurant, you are not charged extra for the use of a table, to have your meal served on plates, using the restrooms, or for the use of flatware and napkins. These are part of the overhead of being in the restaurant business. Yes, we all know that there are so-called "extras", many of which apply to various types of recreational services. Unless there is special package pricing, if you schedule a round of golf, you expect to pay extra for a golf cart; if you go skiing, you expect to pay extra for ski rentals or lessons; and if you hit the bowling lanes, you will pay to rent bowling shoes if you need them.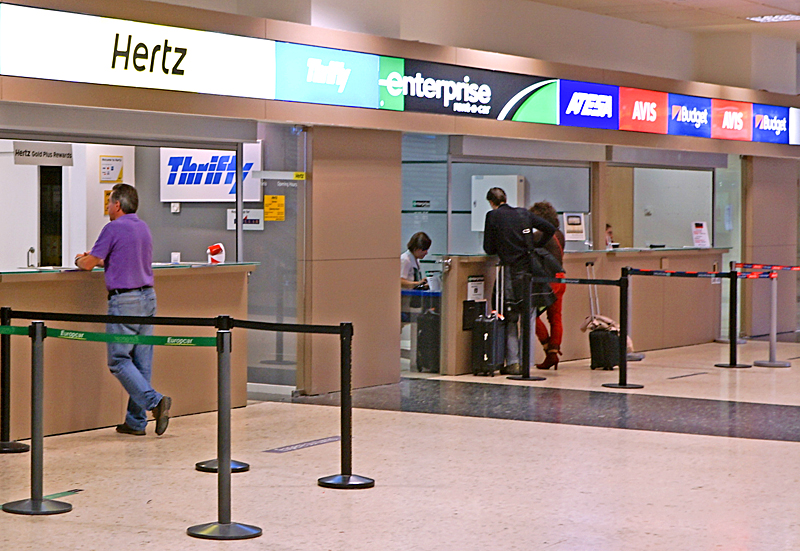 Unfortunately, the rental car industry takes add-ons and hidden charges to a whole new level in the stratosphere. My $155.72 car rental came to $275.56 when I returned the vehicle. Mind you, this increase is despite the fact that I declined all of the added insurance (which is covered by my own auto insurance) and declined the added driver charge for my wife (a fee which is actually illegal in the State of California). The previously undisclosed, added fees included:
An "RAF" fee of $4.99 per day (which presumably has something to do with renting a vehicle at an airport, even if you simply take a shuttle from the airport to a nearby rental location in some instances).
An "Occupancy Tax" of $8.00 (which I presume is an added fee that helps to pay Thrifty's rent).
An "AP Rec Fee" of 12%. I have no idea what this is.
An "SEC Fee" of 2%. I also have no idea what this is.
A "Vehicle Tax" of 4.5%. This one is also difficult to explain.
Part of the problem with the rental car industry is the lack of competition. Most of us can rattle off a list of rental car companies; however, according to a report published in the IndependentTraveler.com, the fact is that 94% of the rental car industry in America is controlled by only three companies:
Hertz – which also owns Advantage, Dollar and Thrifty
Avis – which also owns Budget and Zipcar
Enterprise – which also owns Alamo and National
In fact, when we landed in Omaha and went to the car rental counters, the Thrifty Car Rental booth was unoccupied, with a sign directing customers to the adjacent Dollar Car Rental space. A near-monopoly is never in the interest of consumers. As a case in point, let me present one more tidbit from my car rental experience.
I generally use a bank debit card to pay for my travel expenses. When doing so, it is typical for a hold on funds to be applied, exceeding the anticipated cost of the service by $200.00 or $250.00. According the Thrifty, there would be an additional hold of $350.00 (a bit excessive). More outrageously, if you used a debit card, they would first run a credit check (which, in itself, is harmful to one's credit score) AND charge you a $15.00 fee for the credit report! When I questioned this practice, the clerk pointed toward the other car rental counters and said that they had "all decided to introduce this policy" the previous week. I am not an attorney, but I believe that this is the textbook definition of the term "collusion". I used a credit card as an alternate form of payment.
Needless to say, I am not happy with my most recent car rental experience, and I will never again rent a vehicle from Thrifty or Dollar. I will probably also file a complaint with either regulatory authorities or the Office of the Attorney General in the State of Nebraska (if not both). If this experience involved camping, I would not be the classic "Happy Camper".
If you are wondering how this all might relate to camping, ask yourself if your rates are as transparent as possible. Every campground is going to require cancellation fees, guest fees, premium rates (and minimum stays) for holiday weekends, and premium charges for premium sites. The important part of the equation is for those fees to be fully disclosed at the time of reservation, leading to no surprises at the time of arrival or final check-out. If your state or county imposes a lodging tax on your cabin rentals, be sure that your campers are aware of that fee at the time of reservation.
There are other fees that you may want to reconsider because they are difficult for your customers to rationalize. These might include early check-in fees and wi-fi access charges. Then there are other fees that are certain to meet with customer disapproval. These include surcharges for the use of credit cards, along with transaction fees (often referred to as "convenience charges") that accompany online reservations. These, like the "Occupancy Tax" and "Vehicle Tax" at the airport car rental counter, should be built into your basic pricing.
If you try to see your pricing structure from your customers' perspective, you will avoid the type of dissatisfaction that will only hurt your business in the long run. In order for your customers to see things clearly requires transparency on your part. Ask yourself if it is time to take another look!
This post was written by Peter Pelland