Caller ID: Correcting How Your Business Name Displays
December 16th, 2015
I do not know about you, but I pre-screen my calls before answering the phone, trying my best to avoid telemarketers, robo-calls, and other unwanted phone calls. Even though Caller ID readouts can easily be spoofed by aggressive telemarketers, a caller name that I know will always lead to a call that I will answer.
The problem comes into play if, for any of a variety of reasons, the name that is displayed when you call another phone is not the correct representation of your business name. In some instances, your business name may have changed, but the Caller ID still shows the name of the previous business … perhaps a business with a less than stellar reputation that you have been working vigilantly to overcome. In other instances, your business name may be spelled wrong, due to a careless database entry somewhere along the way.
One of my clients, Shir-Roy Camping Area, recently called me, but my Caller ID displayed the name as "CAMPIN S". Another of my clients, Holiday Park Campground, always displays as "HOLDAY PARK" when they call. Worse yet is if your business appears as "Unknown Caller", a situation that can be damaging to your business in its ability to contact its customers. Getting these corrected can be an exercise in frustration; however, I will attempt to offer some assistance.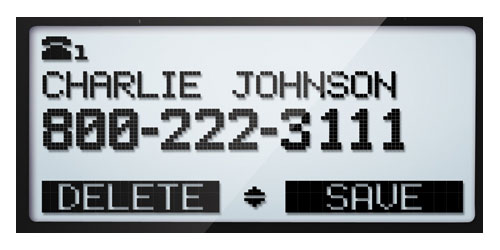 First, it helps to understand how all this works. The phone number and the name that will appear on your Caller ID readout represent two entirely different pieces of information. The Caller ID represents the phone number of the originating call, and it originates with that person or company's phone carrier. It is the CNAM that represents the name that is associated with that number, and it is delivered by the local phone carrier of the person on the receiving end of the call, doing what is called a "database dip." The two pieces of information are alternately displayed on the same device that is broadly (and confusingly) referred to as your Caller ID.
Next, for the purposes of this article, I am referring to the Caller ID information that is displayed for calls made from landline telephones. These telephone carriers include AT&T, Verizon, CenturyLink, Fairpoint, Frontier and Windstream, as well as cable companies like Comcast, Cox and others. Regardless of your carrier, it will access the Caller ID and CNAM databases from one of a couple dozen companies: most typically Neustar (formerly Targus), VeriSign, or Syniverse. The most dominant of these appears to be Neustar. Your phone carrier might subscribe to one or two databases, but any problems will persist unless all of the databases have been corrected.
Further complicating matters, some of these companies only update their databases annually, when new phone directories are published. As you might imagine, it is important for your business name to be listed correctly in your directory listing and on your phone bill. Presuming that you are tired of waiting, there are companies that offer to fix your Caller ID listing in these databases for a fee. One such company is called FixCallerID.com, and it charges a fee of $295.00 per phone number. However, I want to help you to do this on your own, without paying any fees.
To start, my recommendation is to call Neustar at 1 800 682-7487. Tell the operator that you are seeking to make a correction in your CNAM database listing, and you will be transferred over to an automated system where you will begin that process at no charge. The corrections are said to take "as long as 24 hours", which is far better than waiting up to a year or paying a fee to expedite the process.
If this has not corrected the error within a few days, it is time to call your telephone carrier (either landline or cellular). Tell them that your outbound caller ID information is incorrect (or, in the case of an "Unknown Caller" situation, missing) and that you are requesting that it be corrected. They will first check for any possible errors at their end, along with any errors in the settings on your cellular device (if applicable), then check their internal CNAM database for potential errors. Any such errors will be corrected while you are on the call.
If your Caller ID information still does not display correctly, ask the representative from your telephone carrier to file a CNAM inquiry on your behalf. They will ask you to provide the same information that you provided to Neustar, but they will also have a direct route to get the information corrected with all of the other database service providers. At this point, it should only be a matter of a few days before your Caller ID information will begin to display correctly.
Yes, this process will require the investment of a bit of time on your part; however, anything that helps to enhance your business's ability to communicate effectively with its customers is well worth the effort.
This post was written by Peter Pelland