Capitalize Upon Historic Highways
October 11th, 2023
The goal of nearly every campground is to increase occupancy rates, either through increased reservation numbers or extended stays, particularly in the off-seasons. There are many ways to accomplish this. One is to invest in new park features and amenities that will appeal to a broader range of guests, but this can be a costly proposition with a lengthy period for investment recovery. Another way is to get lucky due to your proximity to somebody else's investment, such as a new attraction that opens nearby (and hoping that it does not decide to open its own campground.) Yet another way is to benefit from a nearby campground that either ceases operation or has an unpopular change in ownership or management. All of those options involve changes of some sort, either on your part or on the part of other entities. One other means of building your business is to capitalize upon something that is already there, perhaps right before your eyes yet unnoticed for decades.
Americans (and perhaps most of humanity) have had a love affair with highways and the freedom of the open road for well over a century. When the National Interstate and Defense Highway Act was signed into law by President Eisenhower in 1956, it authorized the construction of 41,000 miles (today, more than 48,750 miles) of modern highways that would make both local and cross-country travel easier than ever. Inspired by the Autobahn in Germany, when you want to get somewhere fast, the Eisenhower Interstate Highway network is the way to go; however, not everybody is in a hurry all of the time, and the Interstates were not the first long-distance highways in America.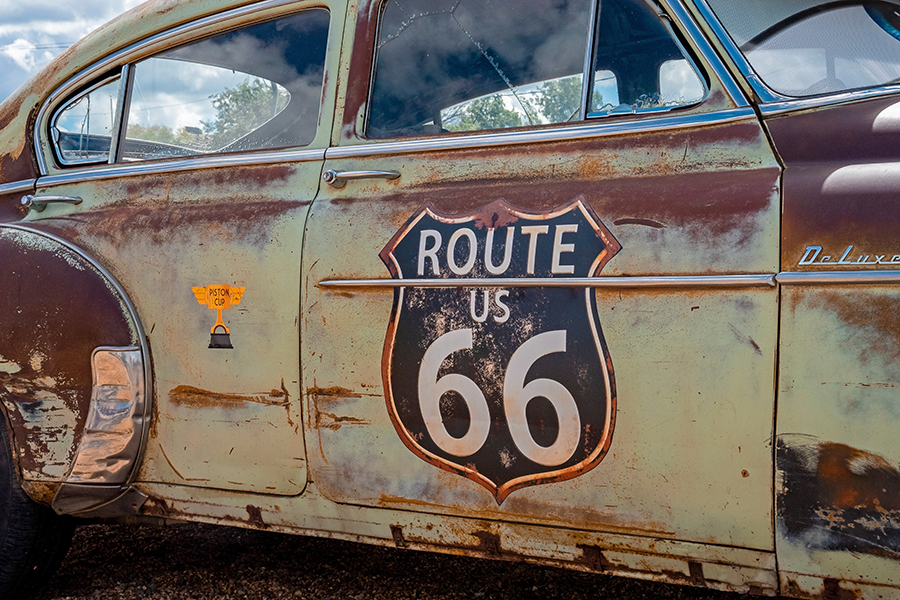 My intrigue with historic highways was kick-started with my reading about a year ago of "The Lincoln Highway: A Novel", the New York Times bestseller written by author Amor Towles. More recently, I watched the pilot episode of the Route 66 TV series that premiered on October 7, 1960 and ran for four seasons on CBS. Two drifters traveling in a Corvette (that is said to have been replaced by sponsor Chevrolet every 3,000 miles) brought tremendous attention to what was sometimes called "America's Main Street", while doubling sales of Corvettes in the first season. I thought it odd that Tod and Buz found themselves in Mississippi in that first episode, nowhere near the actual highway, but it turns out that the series was actually shot on location in 40 states and rarely along the actual highway route.
Prior to the Interstate highways, there was a network of U.S. highways that travelled long distances, in some instances from coast to coast. Everybody is familiar with the appeal – enhanced through song, books and that popular TV series – of U.S. Route 66, which runs from downtown Chicago to Santa Monica Pier in California. Even before the numbering system was introduced, there were a number of established highways crisscrossing the country. Many of those highways, since bypassed by the new Interstates, still at least partially exist and appeal to a new generation of travelers who are seeking out historical landmarks and vestiges of a disappearing culture. Many of these highways are actively promoted by regional tourism associations, such as the PA Route 6 Alliance and Pennsylvania Wilds, both of which promote "400-plus miles of history and heritage, small-town culture, friendly people, and wondrous sights too-often forgotten" in the state of Pennsylvania.
In the early days of auto touring, travelers frequently had tents that attached to their Model T's and stayed at "tourist camps", the precursor of today's modern campgrounds. It only makes sense to capitalize upon your proximity to nearby historic highways, reaching out to campers who are seeking to slow down, stay a while, and explore the history in your back yard. Most of these highways have had their identities usurped by numbered highways that either follow or parallel their routes, but there is adventure in following even vestiges of these original historic highways. Find one near your park, then promote your proximity. Partner with local historical societies, auto clubs, and tin can tourists, perhaps offering your guests "treasure maps" to special places of inspiration, fading away and forgotten without your help. The first on my list are two of the most popular historic highways in America.
The National Road
The National Road, also known as the Cumberland Road, was a 620-mile improved highway, the first to be constructed entirely with funds from the federal government. It was built over the course of more than 25 years in the early 1800s, preceding the advent of the automobile. It connected Cumberland, Maryland to Vandalia, Illinois, where construction ceased due to a lack of funds. Built to accommodate stagecoaches and Conestoga wagons, its use declined with the arrival of railroads but was revived by the Federal Highway Act of 1921, which introduced the grid system of numbered highways. The National Road evolved into both the Victory Highway (honoring American forces who died in World War I) and U.S. Route 40, with a resurgence of roadside businesses that catered to travelers. Later, as had been the case with the railroads, U.S. Route 40 was bypassed by Interstate 70. Today, The National Road Heritage Corridor is a government-business partnership designed to enhance tourism, where The National Road is now considered a tourist destination in itself. If your park is located anywhere along this route, you should be involved! There are historical bridges, monuments, tollhouses, milestones, and much more to be rediscovered along the route within in the following states: MD, PA, WV, OH, IN, and IL.
The Lincoln Highway
Spearheaded by Henry Joy (President of the Packard Motor Car Company), Carl Fisher (head of the Prest-O-Lite Company, which made the first automobile headlights, also developer of the city of Miami Beach, and developer of the Indianapolis Motor Speedway), and Frank Seiberling (co-founder of the Goodyear Tire & Rubber Company), The Lincoln Highway was the first transcontinental road specifically designed for automobiles in the United States. Funds were generated through donations both large and small, including Thomas Edison, former President Theodore Roosevelt, and current President Woodrow Wilson. One notable business leader who profited the most but refused to participate was tightwad Henry Ford, with the excuse that building highways was the government's business. Dedicated in 1913, The Lincoln Highway passes through 14 states and over 700 towns and cities as it connects New York City with San Francisco over the course of some 3,000 miles. Evolving into U.S. Route 30 along two-thirds of its way, The Lincoln Highway today is somewhat of an historic patchwork quilt that attracts motorists who seek out its original remnants, ghosts of roadside attractions, and some of the 2,400 concrete markers that were installed along the route by the Boy Scouts of America on September 1, 1928. Although there is really nothing of note in the short section in the state of New York, there are historical bridges, original Boy Scout markers, sections of original brick pavement, monuments to Abraham Lincoln, so-called "roadside giants" that were designed to capture the attention of tourists, and landmarks that have been recognized in the National Register of Historic Places. States along the route: NY, NJ, PA, WV, OH, IN, IL, IA, NE, CO, WY, UT, NV, and CA.
Route 66
Established in 1926, U.S. Route 66 was one of the country's first numbered highways, the first to be completely paved (in 1938), and quickly became one of the most famous roads in the United States, almost synonymous with what Americans envisioned as the open road. It extended 2,448 miles from Chicago to Santa Monica, California, passing through 8 states in the process, and it has played prominent roles in popular literature, songs, television and movies right up through the 2006 animated film Cars. Although formally replaced by segments of the Interstate Highway System in 1985, portions of the original road in at least 5 states have been designated a National Scenic Byway now known as Historic Route 66.
Famous for its art deco diners and service stations, motels with oversized neon signs, and curious roadside attractions, the highway also passes nearby natural wonders such as Meteor Crater, the Painted Desert and the Grand Canyon, not to mention the site of the first McDonald's restaurant. Although the original route can no longer be driven in its entirety without a few detours, many of the roadside attractions have recently been restored to somewhat of their original luster and appeal, particularly after the National Route 66 Preservation Bill was signed back in 1999. States along the route: IL, MO, KS, OK, TX, NM, AZ, and CA.
The Dixie Highway
Inspired by the earlier Lincoln Highway and covering nearly 1,500 miles, the Dixie Highway connected Chicago to Miami on a Western route, and Sault Sainte Marie, Michigan to Miami on an Eastern route, along with cutoffs in both Georgia and North Carolina. Like its predecessor, this highway route was also spearheaded by Carl Fisher, who you may recall was the developer of the city of Miami Beach. The highway also passes by the Indianapolis Motor Speedway that Fisher also developed. Once again, civic responsibility was balanced with a good measure of private interest, in his desire to get travelers from the Northern states and Canada to travel to Miami Beach and perhaps stop to visit his speedway along the way. Not actually a single highway, this route was actually a network of consecutive paved roadways, with a distinctive "DH" logo painted on utility poles along the way. It still follows a network of now numbered routes, including stretches of U.S. highways, state routes, and Interstate highways. It passes through Louisville, Nashville, Atlanta, Orlando, and the Everglades on its way to Miami. There are still monuments along the way and even sections of original or restored brick pavement. States along the route: MI, IL, IN, OH, KY, TN, NC, SC, GA, and FL.
The Pikes Peak Ocean to Ocean Highway
Completed in 1924, this route was designed to compete with the National Road and the Lincoln Highway but started disappearing as soon as 1926. As its name implies, it extended from New York City to Los Angeles and was designed to promote the city of Colorado Springs and its Pikes Peak toll road. Often unpaved, with rivers sometimes unbridged, most of this highway would evolve into what would become U.S. Route 36. Keep in mind that most towns desperately wanted to be included along these major highways, due to the commerce and tourism that easy automobile transportation could generate. In this case, Colorado and northern sections of Kansas and Missouri felt that they had been bypassed and slighted by the Lincoln Highway. Needless to say, the promoters of this alternative route mostly came from those three states. The same group also promoted a similar North-South route, the Jefferson Highway, that extended from New Orleans to Winnipeg, Manitoba, in Canada.
Like the Dixie Highway, the Pikes Peak Ocean to Ocean Parkway was more of a patchwork of existing roads than a totally new highway. It included parts of the Lincoln Highway in the East, the National Road from Maryland to Indiana, and then pieces of other existing highways and traversing the scenic Rocky Mountains before linking up, once again, with the Lincoln Highway and the Overland Trail. Today, pieces of old cars and hubcaps can be seen by sharp eyes along the route. States along the route, though marginally including the Lincoln Highway sections of NY, NJ, and PA: OH, IN, IL, MO, KS, CO, UT, NV, and CA.
Historic Trails
There are other instances of historic trails that were made for explorations and migrations either on foot or by wagon, and that never evolved into long-distance highways. Two of those are included in this final installment in this series, the Oregon Trail and the Mormon Trail, nonetheless presenting opportunities to get off the beaten path to discover historic sites and markers that commemorate important routes, generally in our country's westward settlement.
The Oregon Trail
First used by wagons in 1836, the trail was established 25 years earlier, when it could only be accessed by foot or horseback. Once the wagons started rumbling, over 400,000 brave souls drove from "back east" in Kansas City, Missouri to the Pacific coast or various stops along the way, usually traveling in wagon trains for added safety in numbers. As was often the case with early highways, use of the Oregon Trail essentially ended once the transcontinental railroad was completed in 1869. Travel by train was faster, safer, and far less expensive.
Parts of the Oregon Trail have now evolved into the routes of Interstate highways 80 and 84, passing through many of the towns that came into being in order to serve the needs of emigrants on the original trail. Highlights that may be visited include the Hollenberg Pony Express Station, in Kansas, on the Nebraska line. It is an extraordinarily rare example of an original building, in its original location, that served as a source for supplies, drinks, and mail services for travelers on the Oregon Trail. Over the state line into Nebraska, Fort Kearney also offers a historic glimpse into the migrations on the trail. Although it was discontinued as a military post in 1871, when the buildings were demolished and the land opened to homesteaders, Fort Kearney has since been rebuilt as Fort Kearney State Historical Park. Further along the trail, Fort Laramie National Historic Site, in Wyoming, presents another collection of exquisitely restored historic buildings. Scenic highlights along the former Oregon Trail include Scotts Bluff National Monument and nearby Chimney Rock National Historic Site, in Nebraska. Chimney Rock was a renowned landmark that offered assurance to migrants that they were on the right path and making progress westward. Still a remarkable landmark, it has lost some of its height over the decades due to natural erosion, weathering, and lightning strikes. States with historic sites, original wagon ruts, registers where emigrants carved their names, and landmarks to explore along the route: MO, KS, NE, WY, ID, WA, and OR.
The Mormon Trail
The Oregon Trail was actually a network of trails that followed the paths of earlier routes established by fur traders and the Lewis and Clark Expedition. On the same token, the Oregon Trail later served as part of the routes of the subsequent California Trail, Mormon Trail and Bozeman Trail, all now collectively known as the Emigrant Trail. Now preserved as the Mormon Pioneer National Historic Trail, the treacherous 1,300-mile trek of the Mormon Trail took members of the Church of Jesus Christ of Latter-day Saints, generally on foot or pushing wooden handcarts, from their original settlements in Ohio, Missouri and Nauvoo, Illinois to the Salt Lake Valley in what was not even yet the state of Utah. This migration took place from the mid-1840s to the late 1860s, once again until the completion of the transcontinental railroad in 1869. The trek began after the assassination of the church's prophet, Joseph Smith, and frequent persecution of its members, primarily due to the polygamy that was commonly practiced at that time. There were settlements along the way, including Garden Grove and Mount Pisgah, in Iowa, and those that evolved into the cities of Council Bluffs, Iowa and Omaha, Nebraska. Crops were planted at many of these settlements, to replenish the food supplies of subsequent emigrants. Because this trail followed much of the same route as the earlier Oregon Trail, many of the same landmarks served as noted points of reference.
Noteworthy attractions along the Mormon Pioneer National Historic Trail include Fort Caspar (in Caspar, Wyoming), featuring reconstructions of the fort buildings, a Mormon ferry, and a section of the Guinard Bridge that crossed the North Platte River; the North Platte River Crossing (west of Fort Laramie, Wyoming), where the iron girder bridge built in 1876 still stands; the Mormon Handcart Historic Site (in Alcova, Wyoming), where visitors can experience handcart travel using handcarts (available for use at no charge) along the site's trails or take a hike to Martin's Cove, where 500 Mormons took shelter during a blizzard in 1856. States along the route: IA, NE, WY, and UT.
Many Mormon landmarks may be explored outside of the trail corridor, including the Smith Family Farm, Sacred Grove, and Hill Cumorah Visitors' Center (in Palmyra and Manchester, New York); the Priesthood Restoration Site (in Oakland Township, Pennsylvania); the Joseph Smith Birthplace (in Sharon, Vermont); Historic Kirtland (in Kirtland, Ohio); Historic Nauvoo (in Nauvoo, Illinois); and Cove Fort (in Beaver, Utah). Most of these sites offer free guided tours.
Conclusion
There are many other historic highways that can still be navigated today to one extent or another, offering fascinating glimpses into American history, particularly the first half of the twentieth century. Some of these include the Yellowstone Trail (connecting Plymouth, Massachusetts with Seattle, via Yellowstone National Park, with drivable sections still existing in Wisconsin, Montana, Idaho, and Washington), the Bankhead Highway (from Washington, DC to San Diego, with many remnants existing in northern Georgia along "Old U.S. Route 29"), the Susquehanna Trail (DC, MD, PA & NY), the Skyline Drive & Blue Ridge Parkway (VA and NC), Black & Yellow Trail (Illinois to Wyoming), Pan-American Highway (Texas to Minnesota), and the Jefferson Highway, that extended from New Orleans to Winnipeg, Manitoba, in Canada. Once again, if your park is in close proximity to any of these historic highways, trails and landmarks, it would make sense for you to promote these nearby attractions, reaching out to the many potential guests who have an interest in exploring these important parts of our country's history.
This post was written by Peter Pelland