Respect – Rather Than Mislead – Your Customers
February 25th, 2014
I sometimes sense that some businesses think that they will profit by tricking customers into making purchases. We are all familiar with the types of practices that have given advertising a bad reputation since the days of P.T. Barnum. These include fine print disclaimers, "bait and switch" and its twin sibling "limited availability", and hidden charges. With their short-term perspective, what these merchants fail to realize are the long-term benefits to be gained from satisfied customers who are treated with respect, integrity and appreciation.
If a misleading advertising campaign is accompanied by a measurable increase in sales from a small percentage of customers, its practitioners may be blind to the possibility that far greater numbers of more astute customers may recognize lipstick on a pig and might decide to permanently take their business elsewhere. Allow me to share a few examples.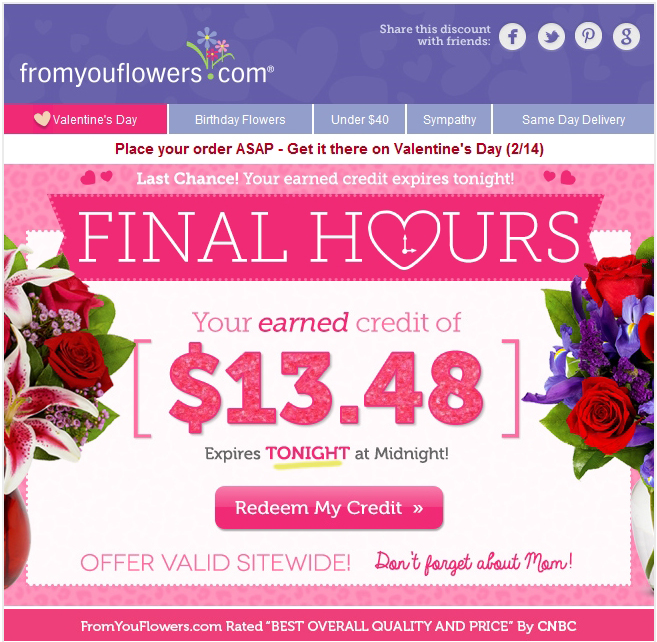 In the days just prior to Valentine's Day, I received three e-mails from FromYouFlowers.com – each with greater urgency – encouraging me to use a "$13.48 earned credit" before it expired (or before it was extended in subsequent e-mails). I realized that I did NOT have a credit in the amount of $13.48, or any other amount, with this online retailer; however, how many people ordered to take advantage of this bogus opportunity? This offer is misleading because the alleged credit is actually nothing but a discount. The random amount makes it look more believable, and most people are more likely to want to use a credit than to apply a comparable discount because a "credit" represents something that is due to you or an amount that you had already paid. Shame on ForYouFlowers.com!
Another recent e-mail advertising campaign was sent out by Uno Pizzeria & Grill, the week prior to the Super Bowl. The subject line was pretty clear: "A Free Pizza for Uno Fans".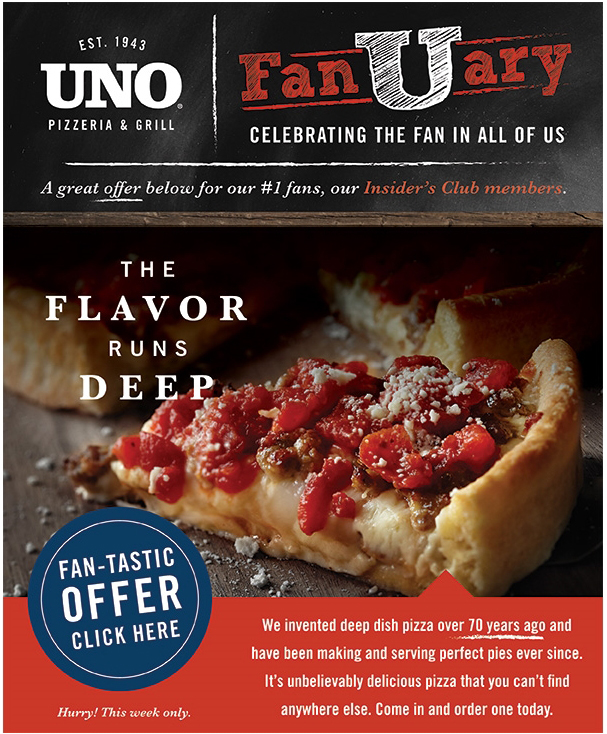 Only upon clicking through to the offer was it explained that the "free" pizza could only be redeemed with the purchase of an accompanying entrée of equal of greater value.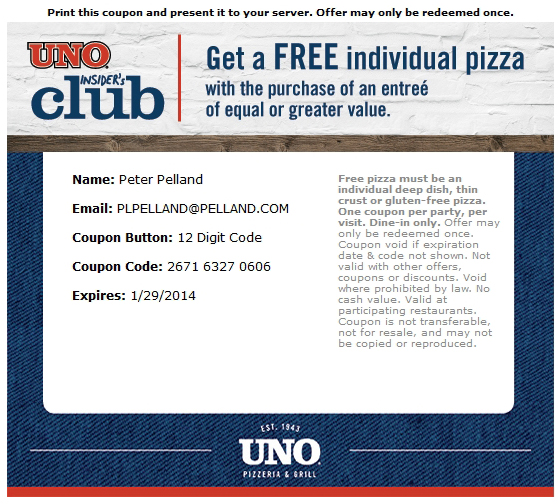 This should have been disclosed right up front, instead of wasting the time of their potential customers with a misleading subject line and a disclosure that required a visit to the Uno website. I suspect that the e-mail advertising campaign had a far greater click-thru rate than redemption rate. I certainly did not bother printing my coupon.
One of my favorites has to be SelectBlinds.com, a major online retailer of window treatments. Their website stresses "Free Shipping" right at the top of their Home page; however, if you place an order from their site, you will pay an "order processing fee" that they say allows them to maintain free shipping.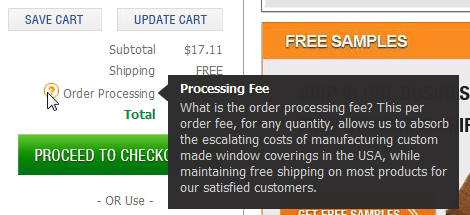 I need a set of mini-blinds, but I will not buy them here, strictly because of that fee. If you charge me a higher price, I will still order; if you insult my intelligence, I will not.
How does this all apply to your campground? I urge you to present your customers legitimate offers that represent true, measurable value. Avoid the "gotcha!" factor. It is fine to advertise "stay two nights, and the third night is free", but you should not present this as "free camping" or include a hidden disclaimer such as "excluding weekends" or "based upon availability".
When posting your rate schedule online, it is best to avoid showing base rates that require customers to use a calculator to determine the actual cost of a site with 50-amp electric on a weekend in your prime season. As much as the base rate may initially attract attention, what appear to be added fees will usually harbor resentment.
Do you charge a fee for wi-fi, or is your coverage area limited to certain sections of your park? Disclose that up front to avoid complaints and potential confrontations later.
In conclusion, it is best to advertise legitimate offers that are first intended to present opportunities to your customers and then secondarily intended to generate business. The two go hand-in-hand, and merchants who recognize this fact will be aptly rewarded.
This post was written by Peter Pelland