January 20th, 2016
Yes, you read it right. Am I speaking blasphemy? Maybe not. I am currently reading an excellent book titled "Reclaiming Conversation: The Power of Talk in a Digital Age" by Sherry Turkle, and it is about how smartphones, texting, and social media like Twitter and Facebook have destroyed our ability to carry on emotional and intellectual conversations. In the words of the author, "Technology gives us the illusion of companionship without the demands of friendship." An entire generation of us, dominated by those under the age of 30, is uncomfortable with the unfamiliar concept of carrying on a direct conversation that involves eye contact, inflection, body language, and emotion.
We have grown accustomed to substituting ALL CAPS for subtle inflections, acronyms like LOL for a smile or a laugh, avatars for our faces, and emoticons for our emotions. Facebook encourages us to only post comments that will be broadly "liked", discouraging any sort of intelligent discourse or exchange of opinions with anyone who is not like-minded. The fact is that we all have much to learn, in a respectful way, from people with beliefs and opinions that differ from our own.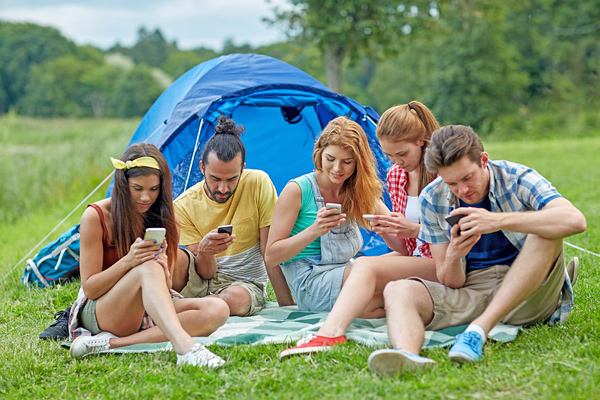 In the camping experience – built upon the concept of providing people with an opportunity to get away from their routines and to commune with a more natural environment – one of the single most highly demanded amenities is high-speed Internet access. The lion's share of my own business is the development of mobile-friendly campground websites, ensuring that campers can learn everything possible about a park using nothing but their smartphones or tablets. Camping tends to mirror society itself, and somewhere along the line society has gone astray.
As school systems nationwide have been in a mad rush to see which of whom can install more computer classrooms faster than their peers, it may surprise some readers to learn about the growth of technology-free schools in America's computer capital, Silicon Valley. That's right. Back in 2011, the New York Times reported how educational alternatives like the Waldorf School of the Peninsula, in Silicon Valley, had a student body that consisted of the children of executives from eBay, Google, Apple, Yahoo, and Hewlett-Packard. It has also been widely reported how Steve Jobs limited his children's access to technology at home, and how many of the other icons of technology follow the same course.
In fact, one of the latest trends in summer camps (those second cousins of family campgrounds) is the development of technology-free camping, sometimes referred to as "tech detox" camps. Mind you, these summer camps are available not only for kids but for adults, hundreds of whom are willing to pay dearly for the opportunity to put aside their cell phones for a week. There is clearly a demand for device-free vacations. In fact, one of my childhood friends (with whom I am connected on Facebook, of course) just posted last week, "I wonder if there is a place on earth where there is no cell phone service, no Facebook, no TV, no computers … I would go to that place for one week and do nothing but read, write, rest, and get away (just for a while) from this maddening crowd we live within." Is there a campground ready to step up to the plate?
There was a recent discussion on the Campground Success LinkedIn Group that I moderate, initiated by a campground owner who wondered whether or not there might be a viable market for a pet-free campground. The general consensus was that there might be risks in suddenly implementing a pet-free policy, particularly when so many of us treat our pets like our own children; however, there is likely a demand for such an alternative. (I would consider it a far lesser risk if I was running a campground that was surrounded by 20 other parks in the immediate area, rather than a park where my nearest competitor was 50 miles away.) I believe that the time has also come for a few brave souls to experiment with running a technology-free campground, maybe testing the waters with a technology-free weekend. (Imagine the free publicity that you could garner in the press!)
This would have to be planned well in advance, before accepting reservations from any campers with conventional expectations. Campers would agree to leave their cell phones at home or locked away and to put away their satellite dishes. The park would shut down its wi-fi routers, pull the cable on TV service, and plan an entire weekend of activities and events that will allow campers to get to know one another – and to get to know themselves – like they used to do in the "good old days". Let's face it: Camping is the perfect setting and environment for tech-free activities and non-activities alike! You could offer things like a book exchange, an acoustic music jam session, nightly group campfires, nature walks, parent and child activities, and a Sunday morning service with a tech-free homily.
Sure, there are issues that would need to be addressed. What do you do about seasonal campers who do not want to participate? What do you do about people who do not easily withdraw from their technology addiction? Those are minor challenges that can be easily overcome. Think of the first restaurants years ago that toyed with the idea of going smoke-free. Today it is almost unheard of to find a restaurant in the United States that allows smoking, and we are all better off for the change.
Who will be the first to step up to the challenge? Without explorers who risked sailing into uncharted waters, we might still believe that the world was flat. Just think of what you might accomplish. If the lessons learned at your tech-free weekend lead to just one family that returns to having dinner together each evening without the distractions of cell phones and TV, you will have just accomplished far more than you had ever intended.
This post was written by Peter Pelland