A Buyer's Guide to the Ultimate in Customer Satisfaction
June 22nd, 2016
I have often written how customer satisfaction is the key to the long-term success of any business. This applies to the full gamut of service industries, but it also applies in a much more tangible manner to the manufacturers of everyday products. As the owner of a small business, you need to spend your dollars wisely, and there is no greater assurance of satisfaction than an unconditional lifetime warranty.
Companies that offer no-questions-asked warranties generally do so because they know that they can stand behind the quality of their products, in a day and age where so many people have grown to accept the concept of planned obsolescence. Sure, you might pay a slight premium for the better quality product, but wouldn't you rather support businesses that, like your own, are committed to customer satisfaction? As a bonus, many of these products are made in the USA, helping to employ people who might be the same people who will in turn patronize your business.
In years past, before the days of mass production, and certainly before the days when manufacturing began to be outsourced to foreign factories employing a low-wage workforce, manufacturers were more typically craftsmen who took great personal pride in what they had made. Products were designed and intended to last for years. When they eventually reached the end of their useful lives, they were often imaginatively repurposed, rather than being hauled off to a landfill for the rest of eternity.
Quality and Marketing Intersect in Freeport, Maine
Many companies today differentiate themselves from their competition by standing behind their products and using that customer assurance as a highly effective marketing tool. If any individual could be singled out as the originator of the concept, it would be Leon Leonwood Bean, who founded the company that bears his name in a one-room operation in Freeport, Maine back in 1912. His first and only product at the time was the Maine Hunting Shoe – affectionately known for many years as the "Bean Boot". According to the company, 90% of the original production run back in 1912 was returned under the terms of L.L. Bean's money-back guarantee, due to design defects. Those defects were corrected, and the company's flagship store now occupies 220,000 square feet and is one of the leading tourist attractions in the state of Maine. Along with its 41 satellite stores, the privately-held company employed a workforce of 5,000 with sales exceeding $1.61 billion in 2014. The iconic Maine Hunting Shoe is still made in the USA, at a plant in Brunswick, Maine that employs 450 people.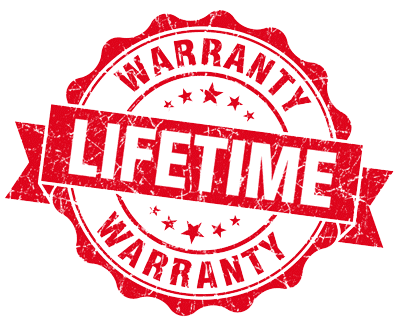 The List
L.L. Bean: A full line of men's, women's and children's clothing; footwear; outdoor gear; hunting and fishing gear and apparel; luggage; and products for the home.
www.llbean.com
100% satisfaction guaranteed, free shipping to the U.S. and Canada with no minimum order.
Eddie Bauer: A full line of men's, women's and children's clothing; outdoor gear; footwear; outerwear; and home accessories.
www.eddiebauer.com
Unconditional lifetime guarantee
The North Face: Men's, women's and children's clothing; outdoor gear (including tents and sleeping bags); footwear; and backpacks.
www.thenorthface.com
Lifetime limited warranty
Lands' End: Men's, women's and children's clothing and shoes; swimwear; and home accessories.
www.landsend.com
Lands' End has actually trademarked its warranty: "Guaranteed. Period."
Patagonia: Men's, women's and children's clothing; outdoor gear.
www.patagonia.com
"Ironclad Guarantee"
Duluth Trading Company: Men's and women's outdoor clothing, footwear, and accessories. Over 150 products made in the USA.
www.duluthtrading.com
"No Bull Guarantee"           
Bogs: Boots for men, women and children.
www.bogsfootwear.com
100% satisfaction guarantee, free shipping and returns on all non-sale items.
Darn Tough Vermont Socks: Comfortable, durable socks, made in the USA.
www.darntough.com
Unconditional lifetime guarantee
Dr. Martens For Life: Men's and women's boots, shoes, and industrial footwear.
www.drmartens.com
Only "For Life" products are covered under the company's lifetime warranty.
JanSport: Backpacks, bags and accessories.
www.jansport.com
Guaranteed for life, with free shipping and free returns.
Briggs & Riley: Luggage.
www.briggs-riley.com
Lifetime repair guarantee, even if damaged by an airline.
Buck Knives: A complete line of knives, made in the USA.
www.buckknives.com
Forever warranty
W.R. Case & Sons Cutlery: Pocket knives and sporting knives, made in the USA.
www.wrcase.com
Limited lifetime warranty
Craftsman: Hand tools, sold by Sears, Kmart and Ace Hardware stores.
www.craftsman.com
Limited lifetime or full warranty, varies by product.
Kobalt Tools: Hand tools and lawn and garden tools, sold exclusively at Lowe's.
www.kobalttools.com
Lifetime hassle-free guarantee
Ridgid: Power tools.
www.ridgid.com
Full lifetime warranty on most power tool products
Vortex: Riflescopes, spotting scopes, binoculars and other optics.
www.vortexoptics.com
Unlimited lifetime warranty. Out of 297 customer reviews, 284 rate this company as "excellent".
CamelBak: Hydration systems.
www.camelbak.com
Lifetime guarantee
This post was written by Peter Pelland