August 3rd, 2017
Years ago, farming was a much less complicated way to earn a living. Concepts like agribusiness, patented GMO seeds with resistance to herbicides, and acres planted in soybeans and inedible corn were futuristic nightmare scenarios. With the exception of tropical fruits such as bananas and pineapples, most of our food was locally grown, field ripened, and harvested in season. As economies of scale, shifting consumer preferences, and the influences of the chemical, pharmaceutical, and transportation industries came into play, more and more small farms turned fallow or were parceled off to real estate developers. It had become a pretty depressing time for family farming.
More recently, times have changed, thanks to a further evolution in consumer preferences and some innovative thinking on the part of a new generation of farmers. Gone are the days when farmers could literally put all of their eggs in one basket. When those eggs would otherwise cost more to produce than the price that they command in the marketplace, there is a significant market for people who are willing to pay a premium for colorful eggs that come from free-range hens that are raised without cages, antibiotics, or GMO-based feeds. If they are purchased in a farm share, farmers' market, or at a farm stand, consumers are often willing to pay even more because they feel good about the farm-to-plate concept. Most importantly, if that farmer has more than eggs to offer, sales and profits will multiply. The secret ingredient has become creative diversification.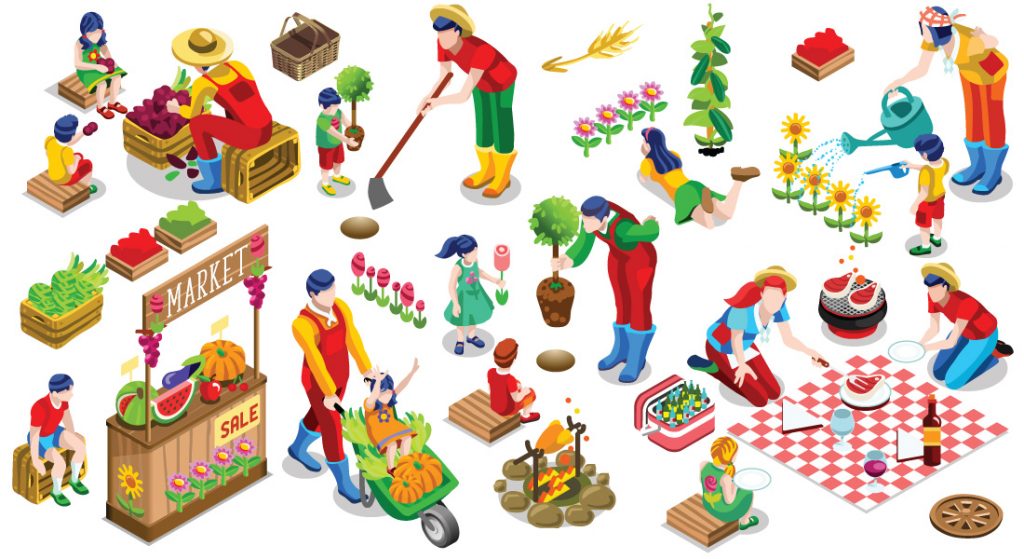 Expand the Experience
Farming today is about much more than crops, livestock and harvests. Particularly for a business that is subject to the vagaries of the weather, it is mission-critical to have more than a single product. Just think of the long list of words that can make a farmer shudder in fear: drought, flooding, hail, frost, disease, insect pests … the list goes on. Other types of businesses long ago caught on to the concept of diversifying the experience that they offer. In the beginning, cruise ships simply provided a means of trans-oceanic transportation, ski resorts had a brief winter season, and concerts and festivals were nothing more than music venues. Even movie theaters, which were once decimated by the advent of television (which has since been devastated by the Internet and live content streaming), are reinventing themselves with luxury seating and food and drink selections that are served by an on-demand wait staff.
Reinvented business concepts share one thing in common: They increase income and profits by getting consumers to stay longer, return more frequently, and buy more. There are few things that consumers today value more highly than their leisure time. We have even invented new terms like "quality time." According to the Collins Dictionary, this term did not exist prior to 1985 but is now one of the 30,000 most commonly used phrases in the English language, with equivalents in French, German, Spanish, Portuguese, Italian, Chinese, Japanese and Korean. The importance and value of quality time should not be underestimated.
Back on the Farm
That expanded, quality time experience can take many forms on a small farm operation. Anything that can turn a farm visit into an "event" will work, while a multitude of events can turn a farm into a destination. The possibilities are nearly endless and include:
Pick-your-own – from berries to tree fruits, your customers will pay you to bring in part of your harvest.
Petting zoos – ever-popular with toddlers (and their grandparents), you can even sell small bags of feed.
Prepared food concessions – from bakeries to restaurants to ice cream stands, people will pay a premium for freshly-prepared foods with natural ingredients.
Hayrides and walking trails – give visitors a chance to get to know your property better, perhaps learning of crops that they did not know you produced.
Music events – a singer-songwriter or acoustic duo will extend the stay of your guests throughout their sets of music, especially if you have outdoor seating with a view or an indoor seating (and dining) space.
Off-season offerings – from Christmas trees and accessories (where tag-your-own or cut-your-own become variations of the pick-your-own concept) to maple sugaring to scarecrow making, corn mazes and pumpkin decorating, there are a variety of ways to extend your season.
Breweries and wineries – expanding like wildfire, craft breweries and small wineries have the potential to draw tremendous crowds, especially when combined with other on-location activities.
Wedding receptions – sometimes a unique location with a terrific view can be in high demand.
Farm stays – if you have guest rooms available, this is another way to expand your income, whether simply a bed & breakfast (with fresh-from-the-farm products for breakfast, of course) or a work and stay opportunity. Over the years, my wife and I have enjoyed stays everywhere from an orange grove in California to a winery and vineyard in Tuscany.
Regardless of which of these options – or others – that your farm chooses to pursue, there are a few basics that will make your endeavor more consumer-friendly and successful.
Successful Marketing Basics
First of all, stop thinking that you are competing against other nearby farm operations. Your competition for consumers' attention will now be major events and attractions, and your reach will extend far beyond the home base of your farm stand customers, most of whom are drivers who stop on impulse. If you are planning one or more events, choose your dates far in advance, allowing time for promotion and avoiding conflicts with other, more established events. Then promote your events as extensively as possible, most heavily in the 7 to 10 days beforehand.
Here are a few additional tips:
Negotiate trades with local media, particularly newspapers with weekly event schedules and local TV and radio stations. Ask a local TV station to cover your event. They are often eager to cover a local human interest story, particularly on a weekend, which is an otherwise slow news period.
Avoid the temptation to save money by doing it yourself. It seems that every farm family has a relative who attended art school, but leave your website and print advertising to professionals who can provide a cohesive branding.
Maximize your use of social media. Promote your event on a Facebook page that is dedicated to your business. Respond to questions and reviews, and don't neglect other social media apps.
Always give something away for free. Whether a free petting zoo (again, you can sell the feed!), free parking (of course!), free hayrides, or free samples, "free" is an incentive to attend and an incentive to stay longer and spend more.
Accept credit cards. There is never a rational excuse for limiting the amount of money that visitors can spend to whatever cash may be on hand in their wallets.
Use every event as an opportunity to promote subsequent events. Have a calendar or other handout so that people can "save the date" and return to the venue that they are enjoying today.
Partner with other businesses in the area that are marketing to the same clientele. A "tour" of businesses along a 20 or 25 mile stretch of highway helps to extend your efforts into an all-day destination event. Develop incentives for visitors to one participant to stop at the other businesses as well.
Capitalize upon signage. It worked for Burma Shave and it works for Wall Drug. For a one-day event, post signs along the route to encourage travelers (who may have been otherwise unaware of your event) to stop by. Be sure to incorporate the word "free".
Have plenty of parking, along with ushers to flag drivers into available spaces.
Make your event photo-friendly, encouraging guests to share photos on the social media, and be sure to take plenty of your own photos to promote the "second annual" event next year.
This post was written by Peter Pelland